Anam Cara
Medwyn Goodall
Listen to Track Samples:
Track Title
Spin Of The Reel
Headwind
The Willow
Shadow On The Glen
Forgiven
Anam Cara
The Wisdom Of Ages
Whisper On The Moors
Love Conquers All
Candle In The Dark
Anam Cara Reprise
The range of Anam Cara, by musician/composer/producer Medwyn Goodall, moves effortlessly from deep, abstract, haunting moods to the full passion of Ireland. It's traditional and authentic, yet fresh and vibrant with a modern edge. Available as a complete album download only.
Goodall was inspired by the Celtic Soul and has broken new ground with this album. Anam Cara is Celtic for Soul Friends, friend in this life and the next or kinship and clanship.
TRT: 49:17
Instruments: Layers of vocals and strings, within a well-placed rainbow of sparkling instrumental sound including Uillean Pipes, Wood Flutes, Irish Drums, Dulcimer, Bodhrun, Celtic Harp, Marimba, Guitars, Supernova 2, Korg, Trinity & Triton and Drums.
Solo and backing vocals: Medwyn and Wendy Goodall, Sinead Farrell, Brett & Caroline Goldsworthy
Highly recommended for: Music for healing arts environments, reading, relaxation and pure enjoyment.
"This album has been in my soul for years". - Medwyn Goodall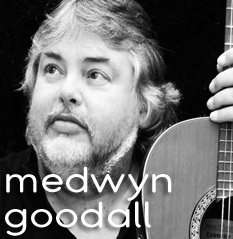 Medwyn Goodall
New age guitarist/multi-instrumentalist/composer Medwyn Goodall was born in Yorkshire, England. He began playing music as a child and composed original songs as a teen, earning local notoriety with his band Trax. Goodall's musical range includes proficiency in a vast range of instruments, including mandolin, piano, drums, harp, flute, glockenspiel, panpipes, vibraphone and synthesizer.
Inspired by the natural world, he has built a solid reputation as an original New Age musician/composer who arranges, performs, mixes and masters every track on his albums. He and his wife Wendy, whose vocals also appear on his tracks, live in Cornwall, England.