4 Ways to Get the Word out to Massage Clients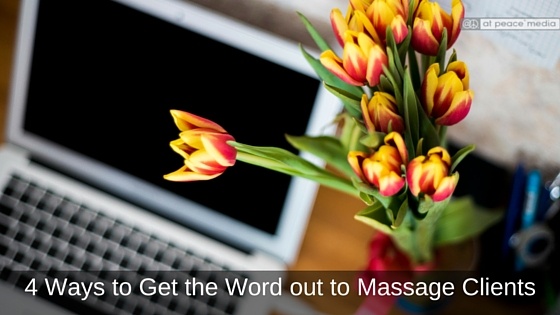 You gotta have an online presence for your massage practice. Got that? If you work on your own it's not optional. Yes, you can start a business and hope that it spreads "gangnam style" (that's shorthand for virally - check it out, over 2.6 billion views on YouTube...b.i.l.l.i.o.n), but do you think that will actually happen?
Most of us are familiar with the game "Telephone". It's the game where one person whispers a message to another, and the message passes through a circle of people until the last player announces the message to the entire group. More often than not, the final message is much different from the original.
When word spreads through other people it's shared through their filter and their experience of you and your establishment. Don't underestimate the power of a good testimonial, or a client talking people up about you all around town. That's what we want. But don't let it be the ONLY good word going around.
Let's look at some ways you can maintain a flow of communication with your clients and also those who might be on the verge of becoming a client.
Website
A website is the best and easiest way to get the word out, because it's your turf. You control what is said and how it's said.
A website is a living, breathing thing. It should be a resource for visitors, providing them with information about your practice, and also with knowledge about you as a massage practitioner. A website that's not updated regularly will give off a stale taste even for first time visitors. Takeaway: keep the information on your website current. And don't keep your website a secret. Anyone who asks you about your massage business...tell them how to find your website.
Blog
A blog can be the meat of your website. Blogging can be as simple as sharing a few words here and there as time allows or it can be a fully involved, routine effort. A blog is the perfect place to write about a unique modality you practice or what clients new to massage can expect during their first visit. It can also be a resource. For instance, if the bulk of your clients are runners, you can offer information about common running injuries and how to prevent them. Or the best stretches for desk jockeys. A blog with quality content will generate additional traffic.
Email list
Maintaining a mailing list is valuable, especially when they're people who opted-in to receive information from you. Why? Because they want to hear from you. Having a direct link to your massage clients via email has the added benefit of being on your own turf. You make the rules. You can give them the information for free. Someday, Facebook may charge people to read stuff.
Social Media
This is a big one. Remember your website? Your great blog content? This is where it all comes together. Social media outlets can be a great way to share content from your site: an article you've written, or announce exciting developments in your massage practice. It's how you speak directly to clients. With a website, blog, and mailing list the communication generally flows one-way. True, many blogs generate a lot of comments and conversation, but the relaxed atmosphere of social media lends itself well to casual conversations that reveal who you are as a person and practitioner.
FYI: Social media has many facets. Like making it easier to network with professional colleagues and develop working relationships with businesses that complement your practice. But that's for another day.
Reach out!
No matter where you are on this "online presence spectrum," remember there's nothing wrong with a client raving about your new modality, but make sure that's not the only voice out there. Your massage clients (and potential clients!) want to hear about everything that's good you are doing.