5 Fast, Cheap, and Simple Remedies for Massage Business Boredom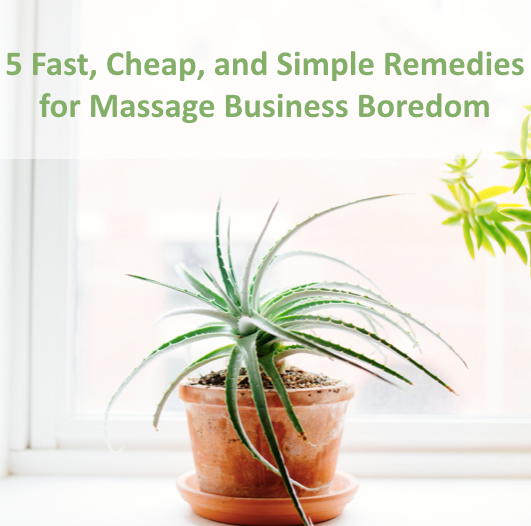 I get bored sometimes. I love my job and I think I'm pretty good at it. But I get bored, and then I notice my hands-on work gets a little boring, too. Then just being at the office is kinda boring and I end up spending too much money on coffee and omelets at the cafe with great wifi next door. And then a long-time client gently suggests that it's been awhile since I've practiced anything new on her... Oops. Bored and stagnant. Bummer.
When that happened this year, I realized it had been a long time since I learned any new hands-on skills or spiffed up the office.
But what to do? Take some classes, paint the office, plan a big open house event? Those are great ideas, but they require considerable time, money, and planning. Then I over think that and get all stressed out. I typically need fast, cheap, and simple ideas to get me motivated to tackle the bigger projects. I consulted with my crack team of brainstormy colleagues and we came up with this stack of ideas.
Bring in some nature
If you don't have plants in your office, add a few. If you're like me and don't know aloe from an edelweiss, check out our ideas for plants to brighten up your space. For those of us who prefer fresh cut flowers, try putting them in a funky vase, keep an eye out in thrift stores for something neat and cheap.
Fancy water
If you offer clients water after the massage, make it a little fancier. It's easy to cut up some cucumber or lime and toss it into a pitcher of water. I started doing this last month after I saw my friend Melissa do it at her office. I didn't think it would make much of an impact, but my clients have noticed and they love it. So far, cucumber and rosemary is the favorite combination.
Deep clean
If you don't remember the last time you deep-cleaned your office, it's time. Borrow a carpet cleaner, wash the drapes, move every book and knick knack and dust like a mad person. Grab your favorite niece, nephew or neighbor kid to help you and let them choose the music to blast during the cleaning binge. Then get pizza. Because pizza.
Move the artwork
Give yourself something different to look at while you're at your desk or in the massage room. You'll find your clients notice the change.
If you want some new artwork but don't have the funds, ask around for a local photographer or artist. Create an agreement to display their work for sale and rotate out whatever doesn't sell on a regular basis.
Create a seasonal treatment
I'm not a huge fan of essential oils, spa treatments, or using tools in my practice. The luxury level in my office is limited to a cozy, soft table and warm pillow under the head. I'm not opposed to fanciness, I just prefer to keep things low maintenance.
That said, a seasonal addition to the services menu can bring some not-so-regulars to the office and encourage an upgrade for my devout regulars. It's fun (and lucrative) for me to do something different. Even if it's a little more work for me, I know it's a short-term special so I don't dread it.
I live in New England and the weather has been weird and rather brutal this year. It's cold. Then it's damp and muggy. Then we get an ice storm. So I'm concocting a Winter Warm Up special that incorporates a warm hand and foot treatment, 90 minute massage, an essential oil option and a few other warm fuzzy add ons. It's going to be decadent and luxurious and very different for me. I'm excited!
Those are my ideas, what are yours? Leave them in the comments below, and keep an eye on the Facebook page for updates as I implement each idea!