5 Great Sources for Sharable Content in Your Massage Marketing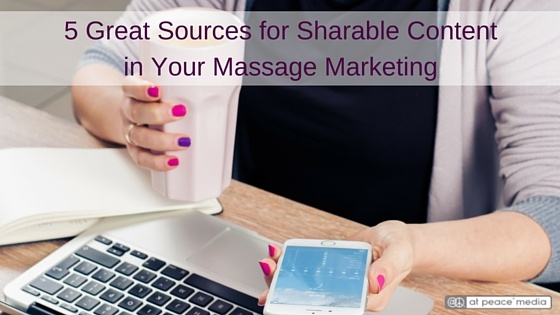 We all know it's a good idea to post regularly on social media, and in general, keep in touch with clients.
But that can be a tall order when you're already juggling the tasks of running a business and, you know, life. Most of us don't have time (or desire) to scour the internet for sharable, interesting articles.
To make your life easier, we put together a list of our favorite sources to share from! Bookmark a few websites and scheduling your facebook posts for the week becomes an easy 15 minute job you can complete over tea and a cupcake.
To Your Health
The same people who make Massage Today also have a great consumer publication called To Your Health. You can sign up to get an email when they publish a new edition (bi-monthly).
Mindful
This website is chock full of well-written articles with health (especially mental health) in mind.
Anatomy in Motion
The makers of my favorite anatomy app also curate a great facebook page with beautiful images and links to useful information. (Share right from the page to be sure all the sources get proper credit.)
Scientific American
This science publication has a great Health section, with oodles of current and interesting articles.
Whatever your clients are into
Consider your target clients, and their interests. If you do lots of prenatal and pediatric massage, check out parenting websites and local businesses that feature family activities. If you specialize in oncology massage be sure to connect with the website and social media of your nearest cancer centers.
Think about what your clients like, and work from there. (Remember, you want to post articles that are interesting to your clients. They are your audience, not other massage therapists.)
Bonus, just for you
If you're dragging at work, or just need to get re-inspired about massage, check out Of Our Hands, One Hand to spark a little love for the job.
Kristen's 'occasional posts on the heart and art of massage therapy' will leave you feeling warm and snuggly and really happy to be a massage therapist.
What are YOUR favorite sources for content and inspiration? Share in the comments!