5 Tips to Maintain Your Online Presence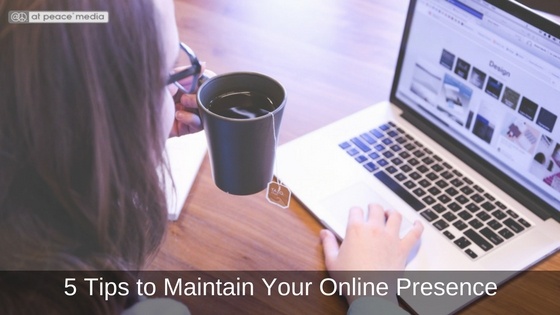 In our last post, 5 ways you can communicate with your clients, we discussed connecting with your clients online with your website, blog, mailing list, and social media. It can be kinda boring stuff, but it gets really fun when you get VISIBLE. And it's not super-hard to do. Really. I promise.
It can be as simple as social media.
Social media is one of the cheapest and easiest forms of communication to date. Cheap as in: free or with $5-25 of advertising cash. Within 30 seconds you can announce changes in your practice and share exciting news. It's simple. And there are plenty of tools to help you schedule posts ahead of time, so you can knock out a week of posts all in one shot.
Posting text to social media is super simple, but it can easily be overlooked. Social media is a busy place with a lot of noise. How do you cut through that noise and go beyond regular status updates?
Graphics, graphics, graphics!
From infographics to beautiful photos with meaningful quotes, graphics convey your message so much faster than a well written blog post. It's true, one image can speak a thousand words, so put those images to use!
Unlike a quick status update on social media, graphics do take a little time to put together. If you have an eye for design, color, and composition, you'll find this to be easy as pie. And if you're "design challenged," fear not. Tools and apps like Canva and Adobe's Spark Post will give you beautiful templates that you can customize to your hearts content or whatever your available time allows.
Say it with video.
If an image speaks a thousand words, imagine what a video can do. This is an opportunity to speak directly to your audience. You can look them in the eye (so to speak) and deliver a message filled with your personality.
A video is a fantastic way to demonstrate a new technique you've been using, feature a new product you sell, or give your clients tips of things they can do to keep up their health habits until their next appointment. Everyone is busy, so keep it short and deliver a powerful punch.
Raffles, contests, and giveaways, oh my!
Whether you want to reward your loyal followers or gain new ones, raffles and contests can be a great way to engage and entice new activity. Your goals should dictate how to carry out the contest. For example, if you want more people on your mailing list, the rules of your contest should dictate that they must be on your mailing list to be included. (Don't forget to attach a link, so it's easy for them to sign up.) Likewise, if you want more Facebook "Likes." Figure out what your goals are and send the traffic in that direction.
And don't forget to check the policies and regulations of the platform you are using to hold your contest.
Plan it out.
Having a marketing plan can be invaluable. By sitting down and planning ahead for holidays, annual sales, and events, you will save yourself loads of time later. When you approach your business and communication in a systematic (but real) way, clients will get a sense of rhythm and look forward to your next blog post, graphic, or video. Saving time by not wondering what should go out next (and not having a holiday creep up on you) is just a bonus.
The most important way to maintain your online presence is to BE YOU. If video doesn't work for you, skip it! If you hear the word "raffles" and cringe,then don't do it! There is no perfect way to do this. There is only what's perfect for you and your perfect audience. Find your groove and roll with it.
Topics: Massage Marketing