6 Safety Training and Procedures Tips for Massage Therapists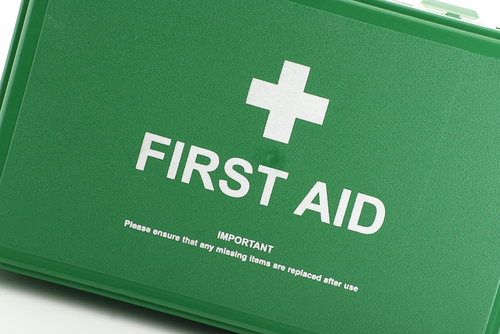 Safety training, planning and procedures can often be overlooked in massage therapy practices. In many small businesses safety issues are not addressed - until there's an emergency or accident happens. Planning for emergencies and actively working to prevent them will save you more than money and headaches; it can save lives.
You may be a sole practitioner or the owner of a large spa. In either case, the following are the most basic health and safety training ideas, policies and procedures for massage therapists.
1. CPR/First Aid
What would you do if a client had a cardiac event or a first aid emergency? If you are properly trained, you could help save a life. This is why CPR certification is required for many state and national massage credentials, such as NCBTMB certification and licensing.
The American Red Cross CPR/First Aid course options align with OSHA's Best Practices for Workplace First Aid Training Programs and are available all over the country. This includes training for using portable AED devices. Keep your CPR/First Aid certification documents, along with the following items:
First aid kit stocked with current supplies
Vinyl gloves
Automated External Defibrillator (AED)
Fluid spill emergency response kit
Portable first aid kits for outcalls
2. Equipment Safety Training
Perform regular maintenance and safety checks on all of your equipment. Make sure that your employees are trained and required to do this, as well. Equipment includes:
Massage tables
Massage chairs
Electric appliances (warmers, stereo equipment, fans, noise machines, lamps)
Spa, sauna and esthetics equipment
3. Blood or Fluid-borne Pathogens Training
Know the Occupational Safety Health Administration (OSHA) rules and regulations for health care professionals. OSHA requires health care professionals to adopt a plan to prevent exposure to blood or other fluid-borne pathogenic micro-organisms. Be aware of the Universal Precautions guidelines. MassageNerd has a thorough article on this topic. Some basics to include in your plan:
Proper hygiene standards for all employees
Sanitation and cleanliness standards and policies
Disinfecting procedures
Jewelry/hair/nails policies
Blood and fluid-borne pathogen training for all employees
Material Safety Data Sheets (MSDS) available for any chemicals on hand
4. Accessibility
Accessibility training, policies and procedures are important for both small and large massage practices. Are your treatment spaces, reception areas and restrooms accessible and safe for your elderly clients or clients with disabilities? Regularly inspect your locations for the following:
Safe entry ways and passages
Non-slip mats and rugs
Lever-style door handles
Minimal clutter
Visible street address/outdoor signage
Adjustible volume control on phones
Ramps and wheelchair accessibility
Guard rails
Sturdy furniture
5. Fire Safety and Disaster Planning
Practice fire safety and disaster response plans with your team or on your own. You should have a plan for yourself and your clients if a fire or natural disaster should take place.
Regularly inspect expiration date tags on fire extinguishers
Keep emergency phone numbers by the door
Post emergency routes with maps in prominent locations
Light exit signs
Have emergency equipment in designated areas (flashlights, candles, blankets, water, radio)
Use safe storage practices
6. Personal Safety / Client Safety
Your personal safety as well as your client's health and safety is of paramount importance. You and your client should feel safe and secure in the massage treatment room and/or on outcalls. Adhere to the following protocols:
Careful screening process for clients
Contraindication screenings
Safe check-in/check-out procedures for outcalls and working alone
Teach clients how to safely get on and off massage table
Immediate assistance for clients who experience dizziness, fainting, or light-headedness
How do you stay prepared and safe in your daily practice? Share your tips and questions in the comments below!