6 Tips for Collecting and Analyzing Client Feedback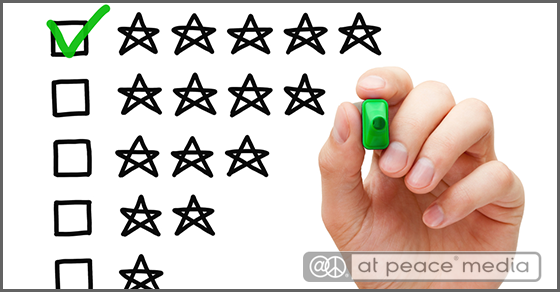 "Your most unhappy customers are your greatest source of learning." — Bill Gates
Listening to customer feedback is a great way to build stronger relationships with your clients and improve your massage therapy practice.
In our 2014 Massage Practitioner Information Report, we surveyed more than 1,000 massage therapists who overwhelmingly said that the #1 thing they're great at is "client satisfaction."
We bet that your priority is client satisfaction, too.
So how do you really know if a client is satisfed? In what ways are you systematically getting client feedback, and then using the information to improve your practice?
We have a few tips to help you collect and analyze client feedback.
1. Work on other massage therapists
If you want the most honest feedback about your massage practice, ask another massage therapist!
Trade massages with other MTs, or just offer to give them a free massage in return for feedback. This will work only if you make it clear that you value honesty and constructive criticism. Make sure they know you won't take it personally if they have something negative to say. Many practitioners are willing to share tips on body mechanics and techniques, or other aspects of their practice. Feedback from your peers is often the most valuable because they understand anatomy and how massage is supposed to be properly practiced.
Invite a mentor or colleague to experience your massage from start to finish. Include an intake form, explain everything as if they are a first-timer to massage, and go through the motions of payment. It may feel silly or awkward to pretend, but it's a great way to get real feedback on the issues that matter most to clients.
Keep all of your feedback notes in a Word document or spreadsheet, and review the feedback to find common threads. On a monthly or quarterly basis, go back and review feedback to see if you have adjusted to fair criticisms.
2. Use an online survey or questionnaire
Many of your clients may feel anxious about giving you direct feedback. These may be the same clients who will not speak up when too much pressure is applied or if something feels wrong, out of shyness or because they feel it may be considered rude.
Encourage your clients to speak up during the massage session. Ask for specific feedback during the session such as "Is this pressure OK or do you prefer more/less"? Since clients may still feel reservations about giving honest feedback in your presence, a follow-up email survey, a Survey Monkey online survey, or paper feedback can be a valuable alternative.
Keep any survey or feedback form short and easy to complete so that you get a higher response rate. Ask questions like: "Is there anything I could change to make the massage experience better for you"?, "What did you like/dislike about your massage today"?
3. Identify your 'at risk' clients
Which clients may be unsatisfied? How many of your clients fail to keep regular appointments because they forget to re-schedule, or maybe there's something else going on? As you gather feedback from your clients using your survey or conversational feedback, make notes in your feedback log and follow up with these people. Put your 'at risk' clients into a column that is marked "Follow up" and create a plan to email or call them to schedule their next appointment.
Superior customer service that goes above and beyond the competition means reaching out to those clients you think may be unsatisfied or need a little extra nudge to book the next session. Even if you don't get them to come back, they may be able to provide valuable feedback about your prices, technique, or any other aspect of your practice. You can use this information to improve your business and increase client satisfaction overall.
4. Identify your fans and advocates
Part of collecting feedback from your clients is identifying who is 100% satisfied with your service, loves what you do, and wants to tell the whole world about it.
By having a systematic process of collecting feedback from your clients, you can group them into categories like: Fan, Advocate, At Risk, Needs Reminding. Once you've identified fans and advocates, encourage them to spread the word and tell them how! Here are a few ideas:
Give them business cards to share
Email scripts for sharing your next event or massage promotion on social media (with links for sharing!)
Reward them with a discount on their next massage if you get a referral.
5. Monitor social media
Keep an eye on your Facebook page, Twitter account, Yelp listing and other social media accounts so that you can respond to comments as quickly as possible. Reply to any negative feedback and offer to follow up privately to address the nature of the complaint. Next, don't forget to file comments and messages in your feedback log. It's easy to overlook a comment or conversation on Facebook, but it may be valuable information as you go through each month/quarter to review and analyze your feedback.
You can also use social media for informal surveys and polls to get feedback from your clients and acquaintances online.
6. Old-fashioned suggestion box
The great thing about a suggestion box is that it is familiar and anonymous. A suggestion box, placed in your hallway or reception area, allows your clients to drop off an anonymous tip or feedback form while bypassing any awkwardness.
How do you collect feedback from your clients on a regular basis? Do you have a system for collecting and analyzing the information? We would love to hear about your process in the comments below!