7 Steps along your reflexology certification path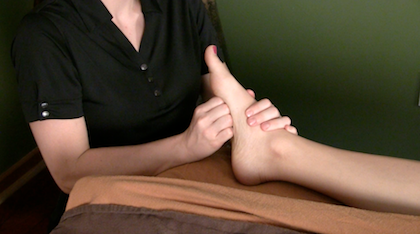 A Reflexologist is a person who uses special pressure techniques on the reflexes of the feet, hands, and ears; one who has studied the principles of Reflexology, anatomy, and physiology generally included in a regular course of study and who has received a minimum 200* hour training certificate or diploma of education in Reflexology, or certification through a national, independent non-profit Reflexology certification board.
*These hours are under review at the national level and subject to increase.
If you're considering reflexology as a specialty, then there are a few steps along the path toward reflexology certification that you'll want to follow. From your first steps, to choosing a program, all the way to national certification, we've put together a 7-step plan to help you along the way.
1. Receive a reflexology treatment
If you haven't had a treatment by now and you're thinking of this career path, it's definitely time to experience it for yourself. Try to get treatments from several different reflexologists to get a feel for various styles.
2. Ask yourself "Why do I want to learn reflexology?"
Take time to reflect and answer these questions:
What do I hope to gain?
What do I like about receiving reflexology?
How does reflexology fit in with my personality?
Do I want to practice reflexology as a gift to your family and friends?
Or either part-time or full-time and charge for this service?
3. Pick your top 3 programs
You might begin your school search with Google or by consulting this list of Reflexology Schools. Narrow down your list and contact your top 3 reflexology educational programs. Ask for information on their training courses and what they have to offer. You'll get a broader perspective if you look outside of your area as well, since some schools send instructors to different parts of the country. The shorter hour courses will probably provide sufficient instruction to work on family and friends. They will give you a good idea whether or not you want to pursue the study of reflexology in more depth. The longer courses will usually prepare you for reflexology as a career.
4. Research
Review all of the material that the school sends. Read through the descriptions of the program, their philosophy, costs, course dates. Then go on to check out the instructors. Investigate their education, qualifications, and background. Ask these questions:
What is the teacher's educational background in reflexology? Where did he/she train in reflexology?
Is the instructor certified by a school and/or nationally by ARCB?
How long has the person been teaching reflexology and where?
Does the teacher actually see clients on a regular basis?
Ask for references.
Check references and verify.
5. Make your decision
Once you've really done all your research, it's time to make a decision. Which program appeals to you the most? Make a pros/cons list, spreadsheet, a crazy flow chart on a whiteboard, talk it over with a trusted friend.... whatever you need to do to process all of the information and decide which program works best for your needs.
6. Apply!
Submit your completed application and wait for the good news of your acceptance...
7. After training, consider becoming nationally certified.
Currently, only three states have a law regulating the practice of reflexology (North Dakota, Tennessee, New Hampshire). You may refer to this chart for exemptions, inclusions to massage laws. Your program will also help you navigate the waters of local certification and national certification.
There are a few good reasons to become nationally certified. ARCB certification provides recognition on the national level of having met core educational and skill standards within the field. National certification assures the public, and your clients that you meet the core standards that have been established for the practice of reflexology in the US. It differentiates the certificant as serious about being a professional in this field, upholding a high standard of competency, and raising the educational bar. It distinguishes the professional from the non-professional, setting apart and bringing credibility to the practitioner who is committed to excellence. It promotes recognition of the field of reflexology as a serious, viable and unique complementary modality.

Source: ARCB