Benefits of Massage for Runners and Athletes: An Inside Perspective, Part 2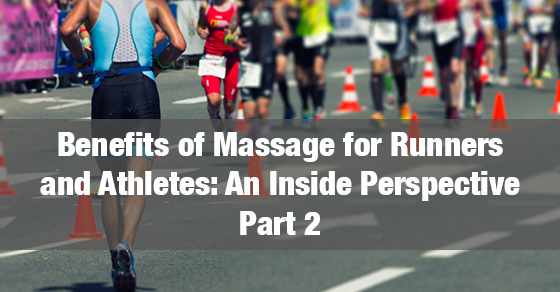 With the Winter Olympics behind us and marathon season ahead, we examine the benefits of massage for runners and athletes of all stripes. Right now, thousands of athletes are training for one of the country's most famous races, the Boston Marathon. Massage therapists play an important role in the Boston Marathon by helping athletes of all levels prepare and recover from the race.
Members of Team Massage Therapy Foundation are dedicated to helping the MTF advance the knowledge and practice of massage therapy by supporting scientific research, education, and community service. In Part 1 of this series we spoke to Kristen Lutz about her experience as a massage therapist and an avid runner who is part of Team MTF.
Now, for Part 2 we interviewed Les Sweeney, President of ABMP as well as a member of Team MTF. Here's what he had to say about living in the space where massage and marathon running intersect!
"Getting old is hard enough—we need to invest in ourselves!" -- Les Sweeney on the question 'What is one thing you wish everyone knew about massage?'
At Peace Media: Can you give me a little background about your history as a runner and athlete?
Les Sweeney: I started running my first day of high school (way back in 1981); I had played sports growing up with no particular success, and decided on a whim to go out for cross country as a freshman. Being a bit of a toothpick, which may be a surprise these days, I learned I had a decent running ability. I did okay my freshman year, but started to take it more seriously after my sophomore season. What I loved about running was that my success was determined by me; my hard work translated into success. I ended up All-State my junior year, but had a tendinitis issue senior year and didn't do as well. I also ran the distance events in track but cross country was by far my favorite. I thought about running in college and was recruited by a couple programs, but decided I didn't want to compromise my beer-drinking in any way.
Since then I have been a recreational runner, and got a little competitive in my thirties, but use it mostly as a means to maintain some semblance of fitness. Alas, my times have increased (along with my weight). I also took up ice hockey in my mid-thirties, so those two and golf comprise my athletic pursuits these days. Living in Colorado, it is actually part of the state constitution that each citizen must do some outdoor activity in order to perpetuate the image of the state. So, occasional hiking, skiing, etc., as well.
APM: How did you become involved with the Massage Therapy Foundation's team that is participating in the Boston Marathon?
Well, ABMP was fortunate enough to be asked by the MTF if we would like to have a bib. When Leslie Young, our Vice President of Communications and a MTF Board member asked me, I said, "Of course we would, and I know who would be happy to run!"
I have personally been a supporter of the Foundation, and saw this as an incredible opportunity to increase my support, as well as have the opportunity of a lifetime to run Boston. Usually, runners have to qualify to run Boston. That was not in the cards for me, so I jumped at the chance to run and raise money for the Foundation. Because I didn't get to finish last year because of the bombing, I was invited to run it again this year. My friend Kathy Laskye from ABMP is wearing the ABMP Foundation bib this year, and I get to run it again as a "civilian." This year I'm just a supporter of the runners, not a fundraiser. I'll donate to their efforts instead of my own!
APM: What is your training regimen like for running the Boston?
LS: Ha! That's a good one. This will be my fifth marathon, and my training seems to decrease with each one. While training last year, I got pneumonia and had to stop running for five weeks, and then had Achilles tendon issues that reduced my training significantly. My thought when starting this year was, "well, at least I'll train better this time around." Not so fast. In July, I broke my fibula playing ice hockey, and had to have surgery. So I didn't start running again until Halloween, and my recovery has slowed my training. Add to that training through the winter, and you have a pretty dismal training regimen. But, I will be there at the starting line, and this year I'll get to enjoy the finish as well. Nothing will stop me from completing Boston this year.
APM: As a massage therapist and a runner, you must have a unique perspective about how these two areas intertwine. What do you think is the most beneficial thing about massage for runners?
LS: I have had some chronic tightness issues in my calves and hips, largely due to almost 25 years behind a desk and 30+ years of running. Massage is essential for me, especially in marathon training. We know so much about gait, posture, and repetitive motion, and massage alleviates much of those issues. During this heavier training season, I receive massage about every ten days on average, and could use it even more.
APM: What kinds of self-care routines do you have to ensure your body stays healthy and up to the task of long-distance running, as well as the daily hard work of being a massage practitioner? Along with that, have you ever had a bad injury from running?
LS: Not as much as I should! One thing I've tried to do a better job at in the last year is my amount of sleep. I need to because I am not getting any younger, but also because of what you are asking your body to do by logging miles. I'm not quite where I need to be, but I am improving. I don't practice massage daily, so I don't have that additional strain. My worst injuries I've sustained have been the tendinitis back in high school, a mild knee injury in the 90s, and then my chronic calf issues I've had over the past 4 years. And of course my hockey injury—not caused by running, but the most severe injury I've ever had.
APM: When and what kind of massage should runners get before and after a big race, like the Boston Marathon?
LS: Last year I got a massage about 5 days before, and then one a week after. I probably could have used one sooner than a week, but I was pretty sore and while I know it would help, it didn't appeal to me right away! Part of that was I was traveling for several days after the marathon, so I couldn't get one scheduled. I looked pretty funny limping along during my son's college visit.
APM: What is one thing you wish everyone knew about massage?
LS: How it is more important and valuable than your Starbucks habit. Massage seems expensive to a lot of people, but when put in context of other discretionary spending, it is so worth it. Getting old is hard enough—we need to invest in ourselves!
APM: Anything else you'd like to talk about that we haven't covered?
LS: Just how awesome this opportunity is—we get to run the Boston Marathon! I'll never play in a Super Bowl, Stanley Cup final, or World Series game. But I get to run in the most prestigious road race in the world. And we get to help our profession in the process. Awesome. Thanks Mary White.