How to navigate the NCBTMB recertification process
As a massage therapist you understand the value and importance of board certification. The benefits include credibility and enhanced reputation, demonstration of your knowledge and skill, and support for continuing education, among many others. At Peace Media is proud to feature NCBTMB-approved providers at our Tools for Touch CE Webinars. At Peace Media is approved as a CE provider by the states of New York, Texas and Mississippi among others. This article is to help those who are already Board Certified understand the steps necessary for recertification.**
(Earn 9 CEs at our next Tools for Touch Webinar, October 29 - Register here)
Recertification must be done every 2 years.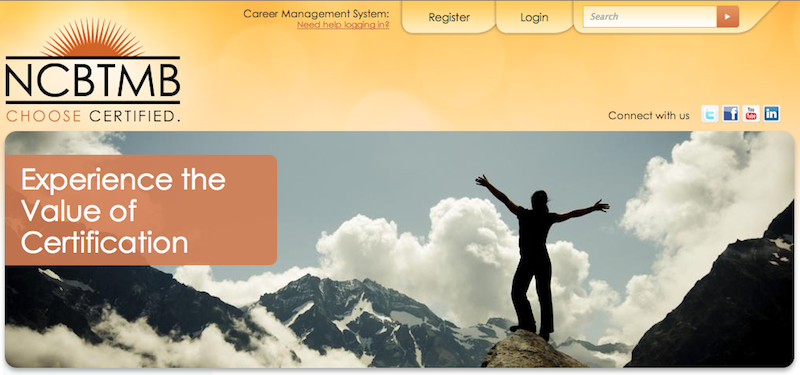 (image from www.ncbtmb.org)
If you're new to the NCBTMB recertification process, keep reading for a step-by-step tour through recertification. Once you see all of the steps you'll need to accomplish for recertification, you'll be able to plan and prepare better for it.
So what do you need to do first?
1. Create an Account in the Career Management System
If you haven't done so already, you'll need to register in the NCBTMB's Career Management System here at the top of their website.

You'll need to have the following information handy as you complete the registration form.
Personal information
SSN/Taxpayer ID
Assigned school code
Your modalities (choose up to 12)
Once you submit the form follow directions for creating your login information.
2. Review the Recertification Requirements
You will want to read all of the information concerning recertification here, but these are the highlights:
Board Recertification Requirements
Pass a thorough national background check
Maintain a current CPR certification
Hours for CPR training may not be counted toward your 24 hours of Continuing Education required for recertification
Re-affirm commitment to the NCBTMB Standards of Practice and Code of Ethics
Re-affirm commitment to the NCBTMB Anti-Trafficking Pledge
Complete 100 hours of documented hands-on experience
Complete 24 hours of Continuing Education classes:
3 hours of the 24 hours must be in research
3 hours of the 24 hours must be in ethics
No more than 4 hours of the 24 hours may be in self-care
You may submit your 24 continuing education and 100 hours of work experience for recertification up to one year prior to your certification expiration date.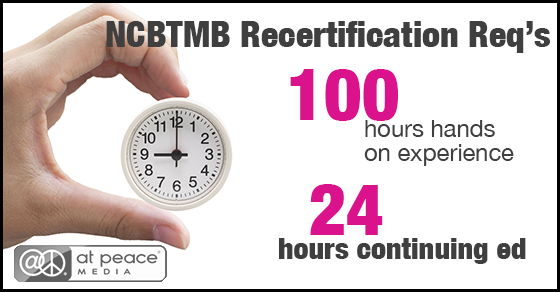 3. Document Experience Hours
The 100 hours of hands-on experience required for recertification can include the following:
Massage Therapy and/or Bodywork (all types, includes Energy work)
Volunteerism
Administration
Teaching/Teaching Assistant
Curriculum Development
Writing/Publishing
Research
4. Research Board Approved Continuing Education Providers
Continuing education courses will only be accepted from an NCBTMB Approved Provider or an NCBTMB Board Approved Continuing Education Provider.

Tools for Touch CE Webinars offer 9 CE hours during our monthly live demo webinars, and we are a NCBTMB Board Approved continuing education provider. Browse our upcoming CE webinars here. The best part about our high-quality webinars is that you can earn your CEs in one day, from the comfort of home.

You can also search here for NCBTMB Board-Approved CE Providers by number, name, title, keyword, state or category.
5. Gather Documentation Materials
In addition to passing the national background check, you will need to submit the following information through the Career Management System to recertify.
Documentation of the required work experience
Documentation of the required continuing education hours.
Continuing education hours must be received through a school with an NCBTMB assigned school code, an NCBTMB approved continuing education provider or an accredited college or university.
Payment may only be made with a valid American Express, MasterCard or Visa credit card.
6. Begin the Recertification Process
Once you've created your account, gathered the information you need, then it's time to begin! Go to the NCBTMB website here and click the "Begin Recertification Process" button.
Now you're ready to get recertified! Need to get a few more CE hours before you can begin the process?Check out our upcoming webinar on October 29 to earn 9 CEs!
**This article is based on information found on the NCBTMB website (as of October 2013) in an effort to provide you, the user, with as much useful and helpful information as we could. Of course there may be special situations, exceptions, grandfathering issues not covered in this article; please contact NCBTMB with specific questions about your situation. We hope this is a helpful resource to get you started!