How to Prepare for NCB Licensure Exams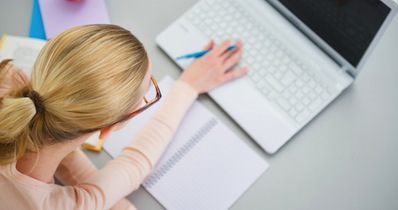 Whether you are taking your first exams to get licensed in your state, or you are working toward your Board Certification, there are plenty of online tools and resources to help you prepare for test day with confidence.
What to Expect
The new entry-level licensure exam is now only 125 questions (reduced from 160 questions).
You will need to create an account in the Career Management System.
The exam is $185.
Practice exam discount - NCBTMB has created an Online Practice Exam and Study Tool to help you prepare for the NCETM or NCETMB exams. When you purchase the NCB's Licensure exam, you get a 50% savings on the online Practice Exam and Study Tool for the first month.
Practice Exam & Study Tool
The Practice Exam and Study Tool is a subscription-based service that allows you access to thousands of questions with relevant course-specific material. While you're answering practice questions you will get immediate feedback on strengths and weaknesses, and it saves your scores so that you can compare the scores of your last three practice exams.
Teachers and schools have access to special features, as well. The video below walks you through the steps for creating an account and shows you some of the features and practice modules.
Pricing options for the online study tool:
1 month subscription = $59.95
3 month subscription = $79.95
6 month subscription = $109.95
NCB notes that the use of this program does not guarantee a passing score on any massage therapy exam.
Webinars
If you have questions about how to study for the exam, or other concerns about getting your state license or national certification, you can register to attend one of NCBTMB's webinars or watch archived webinars on-demand. The archived webinars also include transcripts of the highlights and key questions in the webinar, so you can easily read through the Q&A portion. Here's a screenshot of their 2013 webinar schedule: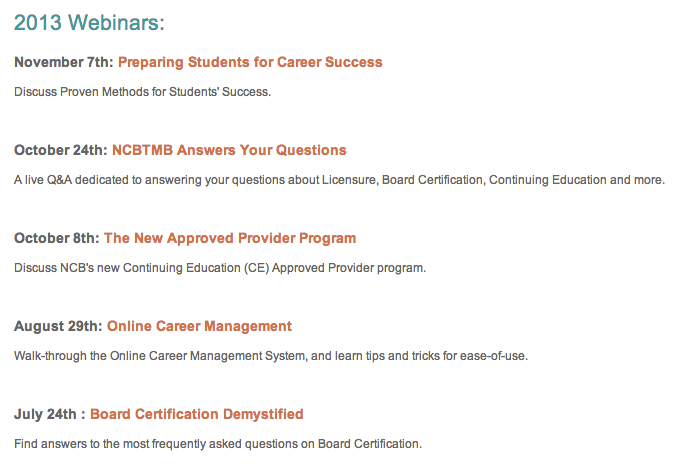 Q&A About the New Board Certification
If you already have your state license and wish to become nationally certified through NCBTMB's Board Certification program, you may have some questions about the new Board Certification.
If your National Certification is current and you meet the other requirements (750 hours of education etc) then you don't have to take the new exam. You will transition into Board Certification, the new standard that NCBTMB rolled out in 2013.
NCBTMB has an archived webinar on the topic, for those who have questions about Board Certification:
Combine Study Techniques
If you learn best from textbooks in front of you and classic flashcards, it's cool to be a little retro when you prepare for the test. Use the NCB's online tools, but mix it up with your preferred learning techniques. If you struggle on a batch of origin and insertion questions, maybe it's time to bust out the flashcards from Anatomy class. (Or you could use the "Tests" in the Anatomy in Motion app!)
Do you have friends who are taking the test as well? Study group time! Pop some popcorn and invite some fellow anatomy geeks over to commiserate. But don't sulk, take turns teaching each other terms and concepts from the practice tests. Use a kitchen timer to see who can name all the cranial nerves the fastest or reward each other with M&M's every time you get a pop quiz correct.
Studying does not have to be an arduous, lonely task. Make it something to look forward to!
How have you prepared for your licensing exams in the past? Share your thoughts in the comments below!