How to start a corporate chair massage business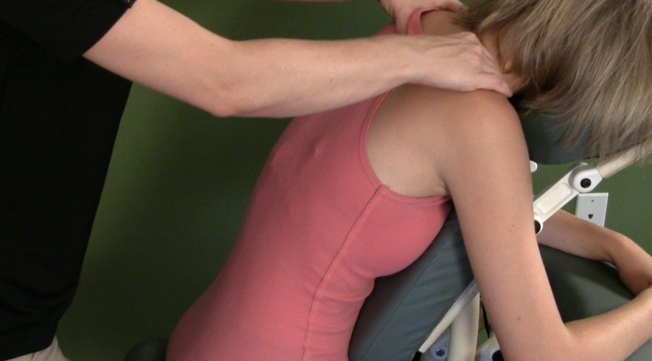 Starting a corporate chair massage business can be a smart idea, for lots of reasons. For one, it's a great marketing tool for any new massage therapist, or for those who are looking to drum up new business. Moving across the country and need to gather a fresh batch of clients? A corporate chair massage business might be the key to meeting new clients and getting your name around town.
Employers have been using massage as an added benefit for their employees for about the last 20 years, especially in more metropolitan areas. Workplace stress and a focus on wellness are some of the factors for employers to hire a massage therapist to come on-site for weekly or monthly chair massage sessions. Employers are smart to do so. Some 83% of American workers say they feel stressed out by their jobs, up from 73% a year ago, according to a 2013 study by Harris Interactive for Everest College.
David Palmer, the "father of chair massage" describes his experiences working for Apple Computer in 1984 as he pioneered seated massage in the corporate space. He says, like in other areas, Steve Jobs was ahead of his time when it came to providing chair massage as an employee benefit:
Jobs nurtured an employee-centric environment. He rejected the idea of a personnel department and instituted a human resources staff charged with creating a workplace that was inviting, exciting and supportive. Apple employees were expected to work 60 hours a week or more, but Jobs wanted them well taken care of.
Now, fueled by wellness trends in healthcare and a desire to attract and retain top talent, thousands of companies around the world offer chair massage to their employees. This gives massage therapists a venue for reaching out to new clients and generate extra income.
For an example of what corporate massage can look like, check out this video from Google massage therapist:
So what does it take to start a corporate chair massage business?
1. Start by counting the costs
Think about your investment costs, time, travel costs including gas and mileage. How many massage events do you need to do a week to cover your costs? How many hours a day? How far are you willing to travel. Plan and look at the numbers first, in the light of day. Interview other massage therapists who have started a chair massage business and ask them lots of questions. Information is power!
2. Look professional
Invest in equipment that will make you look like the pro that you are! First impressions are critical, and part of going out to do corporate events is to garner new clients who will become powerful referral sources for your business. Keep your equipment clean, replace worn or torn padding, be meticulous with your appearance and hygiene, and always use professionally printed business cards.
3. Use your personal contacts
Do you have friends, relatives, business contacts who can be your advocate at their place of work? Managers and executives are more willing to listen to someone they know and trust when it comes to making decisions about hiring a massage therapist to start a new chair massage program.
4. Network
Make a presentation at the local chamber of commerce. Business networking is a powerful tool, so go where the business leaders hang out in your community. Join the chamber and start networking. If you need some help with this particular skill, consider signing up for Massamio's free, 6-week Business Networking for Massage Therapists email course.
5. Look for wellness programs
Target companies that have wellness programs. These businesses may already be aware of the benefits offered by massage therapy and more receptive to the idea of offering the service to their employees. To get your foot in the door, think about offering a free massage.
6. Promote the benefits (for employers)
Put together a package that clearly shows how the company will benefit from hiring a massage therapist. Use a professional brochure, video, testimonials, statistics. What are the benefits? Increasing employee productivity, attracting top talent with unique benefits, promoting job satisfaction, increasing health and wellness, and setting that company apart from its competitors are all powerful incentives to mention when approaching a company.
7. Promote yourself
Once you've landed some corporate massage therapy gigs, don't stop now! Make your time as productive as possible by offering special deals for employees and bringing a sign-up sheet (or better yet, online scheduling so you can book right then!). Always bring business cards and ask for referrals. Have products like Biofreeze, rice bags, and essential oils available to sell. Of course, you want to balance that fine line between massage therapist and salesman, so use a light touch.
8. Keep growing
Once you've established yourself, keep working at growth! David Palmer has this tip for continuing to grow your corporate chair massage practice, "Finding receptive companies can be as simple as reading the business section of the daily newspaper. Local business articles provide a wealth of information about new companies, growing companies and the changing circumstances of established companies. Make a list and call the CEO or human resources department of these companies to find out if they already have or are considering a program to support workplace wellness."