How to stay productive in your downtime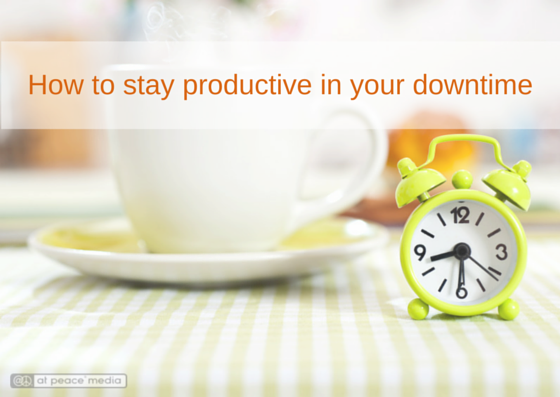 We all have slow times in our massage practices. Sometimes we get a last minute cancellation or a slow day we can't seem to fill. This can be a huge bummer. It can also be a great opportunity to get stuff done.
But I'm a bit of a procrastinator and I have a hard time with the discipline required to be productive. My head knows that the extra time is a gift to be used wisely. But the moment I start to think, "What should I do with this free hour..." Look! Someone posted a new kitten video! There's a new episode of Brooklyn Nine-Nine! I want tacos tonight, better hit the grocery store!
I found if I have an actual written-on-paper list of tasks sitting in my top desk drawer at all times, I'm much more likely to be productive. I see the list every time I open that drawer, so it's tough to forget.
It's not a To Do list that changes often. It's a static list of strictly massage business-related tasks to help me run and grow my business. It's divided into two rough sections according to how much time I have on my hands. There are the standard repetitious tasks like 'clean the bathroom' and 'pull out inactive files'. And there are more creative tasks for when I'm just bored with the same old routine.
I've pulled together some of my favorite ideas on the list.
When you have an hour or two
Drop a note, a real hand-written note via the US postal service, to a client who fell out of treatment. I love pretty notecards and I love getting mail. So I enjoy doing this.
Don't turn this into a 'pull out all the inactive files and sort through them' activity. You don't have time for that. You'll end up with a stack of files for people you want to send notes to, but it'll sit there untouched for who-knows-how-long because you don't have time for that.
Pull one file, write one personal message. Make a note in the file saying you did that. Slap a stamp on there and put it in your mailbox.
That's it. If you have more time, rinse and repeat. Maybe get yourself a cookie, you deserve it.
When you have a few hours or half a day
Set up your marketing for the next month. Schedule your facebook posts for the next 30 days. Not sure what to post? Go here and subscribe to get free content for exactly that.
Make a few images to using in your marketing. If you're great with PowerPoint, you can do it with that program. But I'm currently in love with Canva.com. It's free (you can purchase stock photos for $1 if you want to), and there are a ton of great ideas and templates to use.
Or maybe learn something. It's a brave new world of education, folks. You don't have to take a weekend off work, travel, or pay hundreds of dollars to learn.
In fact, you can rent or buy instant access to videos here.
We've got every modality you can imagine, in a variety of rental and download options, at crazy affordable prices. Really.
For 7 bucks you can rent Carrie Rowell's Hawaiian Massage Lomi Lomi Level 1 video for 24 hours and instantly pick up a few moves for your next client.
You can also rent videos for 7 days, or buy the video to access forever (and burn a copy to disc).
If you want to earn CE Hours, we've got full day webinars available here, and scroll down that same page for all the single classes available, too.
That's how I fill my time. But I want to know, what do YOU do in the unexpected downtime at your massage business?