Massage Therapists' Favorite Products: Sheets, Pillows, Blankets & Bolsters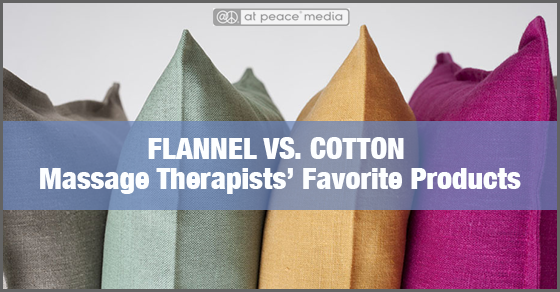 Are you getting the inside scoop? Whenever I buy something, whatever the product, I'm always curious about what other people use and if I'm getting a good deal.
When it comes to massage therapy products, most massage therapists want good quality sheets, pillows and accessories at good prices. So we polled some like minded MTs on LinkedIn and got feedback on what works for their massage practices. You may be surprised at what we discovered!
Flannel vs. Cotton Sheets
Walmart sales are good for Kevin Deighan, LMT. He says, "...I replace [my sheets] every six months. I use Walmart 300 count cotton sheet sets: $15, or $11.50 on sale".
Deighan says that he does not like flannel sheets because they pill up and become uncomfortable. He tried the outlet specials, but they couldn't stand up to hot water and bleaching he does.
"The Walmart sheets become so soft after a few washings and hold up very well. I stopped using oil several years ago and only use water soluble cream and lotion".
Amy Delventhal, a myofascial massage therapist, takes a different approach. She says, "I prefer flannel to percale, but found that most do pill as Kevin reports. However, the ones from Land's End (basic twin sheets, a little big on the table) last forever without pilling. I've still got my original sets from them, 5 years later".
Flannel sheets did seem to be popular with several massage therapists in the group. Jan Bloomfirled, independent massage therapist at Sacred Hands, says that she stocks up on flannel sheets when they're on sale, standard twin size. Jan says:
"I never buy massage table sheets. They are expensive and poor quality. I like the little bit of extra room on the fitted so I can fit a bolster under it. I use the pillowcase for a face rest cover and breast cover for women. My sheets stain before wearing out. I donate old sheets to an animal rescue".

Debrah Roemisch, owner and independent massage therapist, says that she loves Bed, Bath & Beyond and always uses the 20% off coupons that she gets from the store to purchase their 300ct sheets and pillowcases. "They are soft and smooth and not too expensive with the coupon". She does NOT like flannel for the reasons mentioned by others: they are hot, and they pill when washed.
Daria Jagersky, a massage therapist at The Busy Body, spends money on higher quality products and replaces them less often. She says "In my opinion, it is a good idea to spend money on good sheets. If you have to keep replacing them every 6 months then you end up spending twice as much than if you went with the higher quality to begin with".
This flannel vs. cotton debate (along with quality vs. quantity) is clearly a matter of preference for each massage therapist. What's your preference?
Bolsters vs. Pillows
There were many different viewpoints on the issue of bolsters and pillows. Like anything else, the brands and products you prefer will vary widely between practitioners. It's always good to get new ideas and test them out, though.
Deighan weighed in with his favorite sizes of pillows and bolsters. He says he has "three different sized bolsters, a fluffy fiber-fill pillow and a 12" wedge." He also throws in a little advice about his best tools: "Two hydraulic tables...back savers!"
Roemisch says that, for her, a bolster is very uncomfortable when she gets a massage so she prefers to use pillows on her clients.
Others reported that they were dissatisfied with bolsters. But for Michelle Doetsch, she says she's found a brand she loves: Oakworks.
"They have good support yet are supple and comfortable for long periods of time. That's important to me because I have several clients that get 2 hour massages. I've tried a couple other brands of bolsters and while they're comfortable at first, they either begin feeling hard or they lose their support partway through a longer massage," says Doetsch.
Cheryl Smith, an LMT and owner, prefers yoga bolsters over massage bolsters. "First, they are cheaper. I got three beautiful ones for about $20. Second, they are softer under the knee and ankles especially for older clients who love them"!
We'd love to know what your favorite brands, products and preferences are for your own massage therapy practice! Add them to the comments below.