Planning for a Great Year in Massage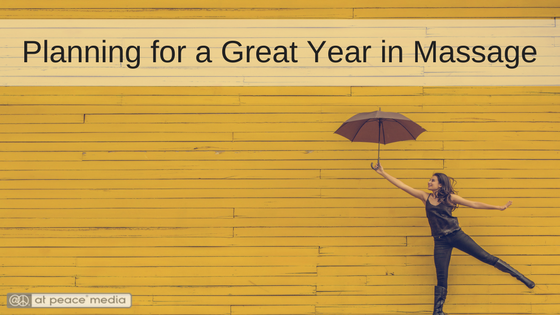 We're fully into the new year, and it's a good time to get organized and really decide how you want 2017 to go. It could be that everything is going great in your business. But there's probably something you want or need, or at least want or need to improve a bit.
Figuring this out involves asking a lot of questions. The big one is:
What do you want to be different in your business?
That's a really big question. You may not have an answer. Here are some more questions to help you break it down:
Are there any tasks you dislike or tend to ignore until they pile up?
What do you love doing most and look forward to?
Are you pleased with the clients who find you?
How are your outcomes? Are your clients getting the relief they seek?
How do you feel when you walk into the massage room every workday? Excited? Tired?
Are you happy with the amount of money you are making?
Are you bored by your massage music?
These questions cover some huge territory. Just pick the one that you had the strongest or even fastest response to, and jot down a few ideas to work with it. For reals, write it down.
If you love working with pregnant women, make a plan to do more of that. Maybe look around for some Mom's Clubs or birthing classes you can partner with. If you hate hate hate cleaning your office, see about contracting that out.
If you're bored by your massage music, check out sighTUNES! We heard that complaint often, so we created a music subscription service designed especially for massage therapists.
And if you come across a 'thing' that you don't know how to change, get help! There are plenty of resources out there to help you learn. ABMP's Massage & Bodywork magazine is available online to everyone. Our friend Allissa has great resources at Massage Business Blueprint, and if you need a one-on-one mentor, check out SCORE.org.
You don't have to change everything, just consider changing one thing to improve your business, and how you feel about your business. We're guessing you'll feel really good about that one change, and it'll lead to more positive changes.
It's a wonderful thing to love your work (we sure do here). A few little adjustment can keep you loving your work through 2017 and beyond.