Reflexology Resources for Massage Therapists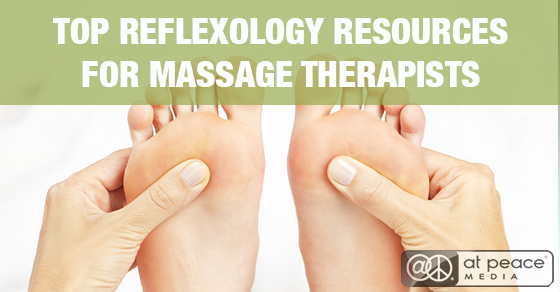 What is Reflexology? If you're exploring a new modality and want to learn more, read on! If you're an experienced Reflexologist, we encourage you to deepen the conversation by adding to our list in the comments below.
Reflexology, sometimes known as zone therapy, is based on the theory that pressure applied to specific areas of the feet, hands, and ears can produce beneficial results in corresponding parts of the body.
Your therapist, called a reflexologist, will use his or her hands, thumbs, and fingers on these areas (feet, hands, ears) without oil or lotion. Reflexology is often incorporated into a massage treatment, but it is commonly performed as a stand-alone treatment. Benefits include relaxation, relief of pain and stress, and improved circulation.
We've gathered a few of our favorite resources for those of you interested in learning more about this modality.
Disclaimer on all of these resources: We realize, of course, that downloading a poster or DVD isn't the same as becoming certified as a Reflexologist (and we're sure you know that too). This is simply a list of resources to help you learn more.
Reflexology with Rhonda Funes
Every year, more and more people appreciate the value of Reflexology as an effective tool of touch that accesses the energy flow of the entire body through specific applied pressures.
This massage DVD series from At Peace Media helps you develop both the skills and confidence to address the nerve rich areas of the feet and provides detailed examples of thumb and finger articulations.
It's available to rent or buy, and you can find more Reflexology DVDs here in the "Also Recommended" section.
Reflexology Chart by Massamio
To help raise awareness of this modality, Massamio has put together a beautiful, artistic rendering of a Reflexology chart (for feet) to hang in your massage treatment room. It makes a great conversation piece for new clients or those who have never heard of Reflexology before.
Download a high quality PDF of this Reflexology chart here.
Reflexology and Massage: Understanding the Differences and Benefits
This blog post from Massamio on Reflexology is from Deb Kortyna, L.M.T., a healing arts practitioner nationally certified in Reflexology, massage and bodywork. Deb presents a great overview on the history of Reflexology, her own story about becoming a reflexologist, a chart on the differences between massage and Reflexology, benefits, education requirements, and more. Read the full post here.
Learn more about Deb at desertwindhealingarts.com.
Reflexology Association of America
The Reflexology Association of America has been serving the needs of its members since 1995 when leaders came together to form a non-profit member association dedicated to unifying all reflexologists for the recognition, excellence and professional strength of Reflexology.
Notable resources include:
American Reflexology Certification Board
American Reflexology Certification Board's main purpose is to protect the public and promote the advancement of the field through the recognition of competent reflexologists who practice on a professional basis and choose to be recognized as meeting basic national standards.
The ARCB works for the growth of the entire field by encouraging the ongoing development of Reflexology associations, and related professional organizations, and legislative activities.
You can learn more about the history of Reflexology, find continuing education classes, and learn more about certification through the ARCB.
What resources would you add to this list? Let us know in the comments below!