The Enthusiastic Massage Therapist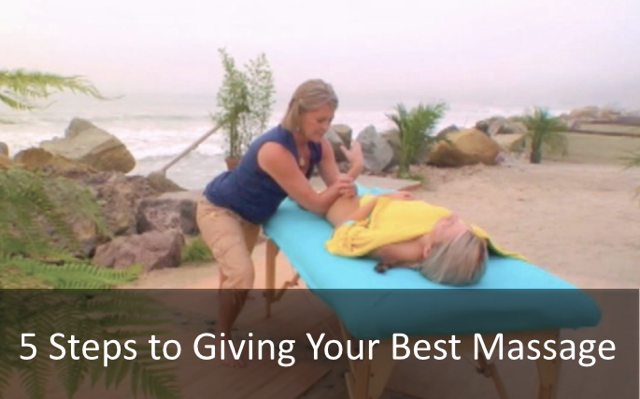 The enthusiastic Massage Therapist is positive and excited to connect with their client and participate whole-heartedly and help them feel much better.
This excitement and positivity help the MT to take care of themselves, reducing injury and burn out by enjoying every stroke. This allows the MT to always be 100% present, and the massage becomes a win-win experience.
Recently I asked my clients, "why do you come to me for sessions?"
The most common answer was, "you always address my specific issue or complaint and you always touch my whole body just like as if I had a full body massage but more effective. I feel like my mind and my emotional self is in a much better place. I feel like I can handle my stress, my decisions and do my life better because of you. I feel calm and grounded."
Here are some techniques I use most often to accompany the specific therapeutic work I do. You can apply these five techniques to make every massage session the most effective and enjoyable for both you and your client.
Smile: Don't be so serious
We often get too intense when giving a massage because we want to do a great job. Imagine your inner smile and you will notice a difference in both you and your client's energy immediately. Then that big breath you took just comes naturally.
Your client can feel your energy. Instead of working so hard, set your intention for healing and enjoy the process. They came to you to release the tension of working so hard and carrying the stress of their lives, give them a mini vacation by being light.
Energize yourself with Forearm Dance techniques
Moving creates energy. Energy makes both you and your clients feel better. Whether you are standing, sitting or kneeling you always want to be moving.
The Forearm Dance shows you how to move from your feet, through your pelvis, to your tool. Give your thumbs a break, and your body the opportunity to move.
Lift up, lok upPass your joy through to your client by having good posture with shoulders down, legs engaged, strong straight back and your eyes looking out at a distant horizon. Move from your feet soyoualways have an undulating elongation traveling through your body.
Looking up will lift your client's tissue giving them relief, looking down has a tendency to compress the tissue. Always ask yourself, what is my intention? Let the answer guide your body.
The $100 dollar Effleurage
Effleurage: for more than spreading oil.
Make one of the first and last physical connections with your client more enjoyable and effective by using your whole hand and whole willingness to connect. Use less oil, connect more.
The most sensitive part of the body is that which is touching the table so first allow your Effleurage to go up and over every joint fully and then under the body.
When you effleurage the leg start at the foot, go up over ankle then back to foot touching under the heel, then go from foot up to and over the knee wrapping your hands under the popliteal fossa and calf and back to foot, then go up and over the ASIS sliding one hand under the low back and then back towards the foot sliding under the leg to the hamstrings, around knee and back to the foot. This progressively longer and longer effleurage is extremely comforting.
Disperse – Specific - Disperse
Move from large movements to small specific movements to large movements, breaks up stagnation so you can get to the areas that need more specific work without hurting your hands
Save using your thumbs and fingers for specific work until after most of the harder stagnation softens
This surprises and releases the nervous system, giving your client an increased feeling of sensation and relief.
Val Guin is recognized as a leader and innovator in the massage industry, through the creation of her best-selling DVD series, Val Guin's Forearm Dance™ Massage, Original and Essentials. She has been an instructor and a therapeutic body worker for almost three decades, focusing her private practice of 8 to 10 people a day on creating better posture and structural function, which creates more mobility and less pain within her students and clients. A popular seminar presenter nationwide, Guin also conducts educational seminars locally at her studio in Santa Monica. Val is a frequent presenter at AMTA conferences and she is an approved provider for the NCBTMB for continuing education hours.