Asian Blossoms
Missa Johnouchi
Listen to Track Samples:
Track Title
Asian Wind
Seasons
Marco Polo
Song of Silk Road
Blossom
Springtime
Nightbird
Butterfly
Twilight
Once Upon a Time
Asian Wind (reprise)
Of Asian Blossoms, her debut spa music album, Missa Johnouchi explains: When I was asked to do this project, the first thing I did was to spin my 'Globe'. "I wonder what I can do with 'Asia' as the starting point?" I had been looking for a while when I noticed that there is a, 'Prairie Route' north of the Silk Road. It is the route that has Changan as its base, includes the Mongolian steppe, crosses south of the Aral sea and goes through Astrakhan to Turkey. It seems to be called 'TIAN SHAN BEI LU'. When I imagined that country, a melody came into my head. It was, 'ASIAN WIND'.
Johnouchi has assembled a small string ensemble, a contemporary guitar-bass-percussion trio and four musicians playing traditional Chinese instruments--the erhu (a long, narrow, bowed stringed instrument), the pipa (a pear-shaped, four-stringed lute), the yang qin (duclimer) and the gu zheng (cousin on the Japanese koto). "Seeking to evoke imagery of an ancient trade route that parallels Asia's famed Silk Road, Johnouchi creates languid, formal-sounding tone poems that could either soothe the spirit or annoy the senses, depending on how you respond to the higher-pitched character of the Chinese instrumentation"- Terry Wood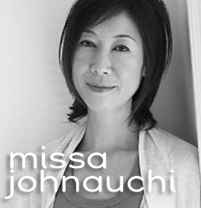 Missa Johnouchi
Missa Johnouchi has composed and arranged music for TV dramas and film music since when she was a music student. She has also released multiple albums. Since 1989, Ms Johnouchi has produced eight albums with the Orchestra du Theatre National de l' Opera de Paris. She recently released her acclaimed spa music albums, Asian Blossoms and Asian Blossoms II which have been received enthusiastically received worldwide. In addition to her music activities, she has worked widely as a commentator and essayist.