Bali Dua
Jalan Jalan
Listen to Track Samples:
Track Title
Kaja (Come From)
Sekar (Spirit of Plants)
Step
Wari
Hug with the Wind
Bulan
Barong Forest
Horizon
Bali Dua, by the ambient world music group, Jalan Jalan offers listeners the soundscape unique to the island of Bali. Hear the lush soundscape of Bali fused with the sounds of the Balinese Gamelan - the music which fills the everyday lives of the Balinese people. Jalan Jalan means "to walk" and this album will take you on a vibrant tour of the mysterious, spiritual Bali. Hear the voices of children, clucks of chickens, people calling to one another, the sounds of horns and engines of motorbikes and buses passing by. As you walk the village paths toward the beach, hear the natural sounds of the island and you can almost smell the flowers....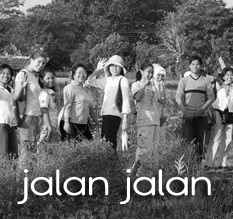 Jalan Jalan
Jalan Jalan is a musical ensemble assembled by members of SORMA, a group of musicians lead by keyboardist/arranger/composer YOICHI SHIMADA. Jalan Jalan specializes in ambient music for deep relaxation. Their music being heavily influenced by the nature and mystique of the Balinese islands (Indonesia), they often use the traditional Indonesian instrument - the Gamelan, to create a warm and relaxing atmosphere. Jalan Jalan means "a walk" or "a stroll" in the Indonesian language.