Healing Music for Ayurveda
Hariprasad Chaurasia
The undisputed master of the bansuri flute, Hariprasad Chaurasia, has been exploring the farthest reaches of the instrument for more than three decades. This world music album is a perfect selection for massage music to be used in a variety of settings, including mediation. With sound as refined as a fine jewel, he plays music that ripples out like a stone in a pristine pond, eventually reaching the outer edge. The music on this CD, with its two long meditative tracks, is meant to create an atmosphere of harmony, peace and health. It is very much in keeping with the theme of Aired, which is the science of life as originated in ancient India, which aims to create total health. Through carefully conceived balance between the five elements, these perfectly played sound vibrations are offered as a means of restoring calm to the body, mind and spirit.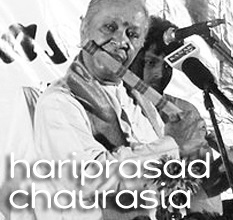 Hariprasad Chaurasia
Hariprasad Chaurasia, an Indian classical instrumentalist, has been described as "One of the Four Living Masters of Indian Classical Music". Through his playing of the bansuri, the North Indian bamboo flute, he has made a conscious effort to reach out and expand the audience for Indian classical music. He is considered a rare combination of innovator and traditionalist, who has expanded the expressive possibilities of the bansuri through his masterful blowing technique.
He learned vocal music at the age of 15. Later, he switched to playing the flute under the tutelage of Pandit Bholanath Prasanna of Varanasi. His work includes gigs for All India Radio; currently, he serves as the Artistic Director of the World Music Department at the Rotterdam Music Conservatory in the Netherlands.