Chakra Yoga Meditation Disc 1
Surajit Das
Listen to Track Samples:
Track Title
Ajna Chakra
Mulhadara Chakra
Swadhistara Chakra
Manipura Chakra
Chakra Yoga Meditation Disc 1 by Surajit Das and Swapan Bhattacharya is a relaxing and beautiful introduction to Nada Yoga, which is an ancient Indian form of music therapy. This massage music is a perfect selection for relaxation music to be used in a variety of settings, including healing, meditation and reading. Listening to the specific ragas creates an experience of balance, harmony, purification and inner transformation. Beautiful, world music for massage and spa with instrumentation including the sitar.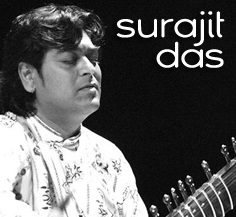 Surajit Das
Surajit Das was born in Calcutta, India into a musical family. His aunt, Shrimati Suruchi Das, gave him his first sitar lesson at the age of nine; he studied later with the well-known sitarist Professor Kashinath Mukerjee. In 1983 he obtained his Masters Degree in Indian classical music at the Music University Proyag Sangeet Samity in Allahabad. Surajit studied and developed all the ragas known to Professor Chinmoy Lahere, a well-known classical singer in India. He gives guest performances at the seminars of Deepak Chopra and has recently been working with Roy Martina. Surajit is a firm believer of the peaceful influence Indian classical music has.