Healing Waters
Dean Evenson
Listen to Track Samples:
Track Title
Floating to Forever
Spirit of Water
Waves of Fulfilling
Washed with Love
Buddha's Dream
Stream of Blessing
Waterfalling for You
River of Dreams
Ripples in the Wind
Swirling Beyond Belief
Water You Talking About
Where Have All the Salmon Gone
Let the sound of lush flutes, dreamy guitar and cascading harps take you to a world of gentle ocean waves and flowing rivers. Many of our clients have used this massage music for a variety of relaxation purposes: sleep, meditation and reading are only a few of the possible uses. Bathe in the beauty of nature's own symphony blended with soothing music especially designed to harmonize body and soul. Healing Waters is a sterling example of combining grace and purpose into pleasurable and meaningful listening. This deep and soothing musical experience is a confluence of elemental water sounds and elegant, relaxing instrumentation that is perfect for all healing therapies. It creates a "sonic spa" and is an ideal musical tool to reduce stress, enhance the effects of massage and aid in restoring internal balance. From the streams of the Himalayas to the rivers of the Cascade Mountains, from the great Ganges to the vast oceans and rivers, water sustains every living thing. Water sounds, womb sounds – the rhythmic beat of oceanic waves return us to our origins. When the stresses of modern life become overbearing, water has the most beautiful way of returning us to ourselves, reminding us of nature's gifts and where we fit in the natural order. Healing Waters, the second album in the Sound Healing series by Dean Evenson, is an exquisitely crafted and spiritually uplifting expression of artistic mastery. In addition to Dean's soothing flute, the album features collaborations with acoustic guitar wizard Scott Huckabay, harpists Dudley Evenson and d'Rachael, and introduces Chinese zither (guqin) master Li Xiangting.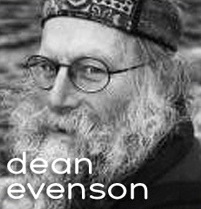 Dean Evenson
Dean Evenson is one of the true visionaries of the Ambient/New Age musical genre–a prolific musician and composer, an entrepreneur, media pioneer and the co-founder of Billboard-charting independent music label, Soundings of the Planet.
At every turn, Evenson's life has taken bold steps in new and exciting directions. The success and pioneering nature of his creative work attest to a dynamic personality and a life-long commitment to the positive evolution of life on this planet in relationship with the natural and spiritual world. Evenson's story is that of an artist, technological innovator, broad-minded thinker–a modern-day Renaissance man.

Music, nature and spirituality were a part of Evenson's life from a very early age. Growing up in Staten Island, New York as part of a musical, church-going family, Dean learned to play flute and piano, and played and sang in all types of school, church and community orchestras, bands and choirs. His affinity for music also found expression in a deep, abiding love of nature. Borrowing his elder brother's recording equipment, Dean would often place a microphone outside his bedroom window to capture the crash of thunderstorms. While on an early bird-watching trip with the pastor of his church, Dean learned to appreciate the wonderful, musical complexity of bird-songs. From that point on, music, nature and spirituality became the primary threads with which Evenson wove the fabric of his life.
"You don't notice those things when you're young unless they're pointed out to you. Hearing them for the first time like that changed my whole perspective on what nature was and what I thought about sound." - Dean Evenson