Sound Massage
Dean Evenson
Listen to Track Samples:
Track Title
Mating Call
Harmonic Heaven
Touch of Grace
Floating to Forever
Native Tongue
Soft Summer Serenade
Deep in the Heart
Heart of the Forest
Sky Touching Earth
Falling for You
Timeless Spirit
A stunning collection of spa music designed specifically to support the benefits of massage therapy. This massage music is a perfect selection for relaxation music to be used in a variety of settings including massage, mediation and reading. Sound healing pioneer Dean Evenson collaborates with outstanding members of the Soundings Ensemble to create healing environments through the music of flutes, harps, guitar and keyboards. Includes tracks from our best-selling, award-winning Sound Healing Series and Nature Music Series as well as four tracks of new music. A must-have addition for every bodyworker's medicine kit! Both healing music and massage began to have a popular acceptance about the same time. The 1970′s were a time of new innovations and explorations into healing and consciousness so when a few pioneering musicians began to create a more spiritual and meditative form of music, it was natural that the newly blooming massage therapy and bodywork professions would discover its benefits for their practice. In addition to a good massage table and quality massage oils, good music became a must-have part of a massage therapist's medicine kit. It is rare to have a massage session these days without the presence of peaceful music in the background. Some practitioners have even found that by "prescribing" music for their clients to take home with them, they can extend the beneficial effects of their work. If someone has had a positive experience listening to a certain piece of music during a session, being able to play the music at home will allow the effects to continue and activate the "relaxation response" when the music is played and the memory stimulated.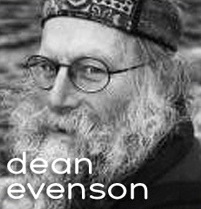 Dean Evenson
Dean Evenson is one of the true visionaries of the Ambient/New Age musical genre–a prolific musician and composer, an entrepreneur, media pioneer and the co-founder of Billboard-charting independent music label, Soundings of the Planet.
At every turn, Evenson's life has taken bold steps in new and exciting directions. The success and pioneering nature of his creative work attest to a dynamic personality and a life-long commitment to the positive evolution of life on this planet in relationship with the natural and spiritual world. Evenson's story is that of an artist, technological innovator, broad-minded thinker–a modern-day Renaissance man.

Music, nature and spirituality were a part of Evenson's life from a very early age. Growing up in Staten Island, New York as part of a musical, church-going family, Dean learned to play flute and piano, and played and sang in all types of school, church and community orchestras, bands and choirs. His affinity for music also found expression in a deep, abiding love of nature. Borrowing his elder brother's recording equipment, Dean would often place a microphone outside his bedroom window to capture the crash of thunderstorms. While on an early bird-watching trip with the pastor of his church, Dean learned to appreciate the wonderful, musical complexity of bird-songs. From that point on, music, nature and spirituality became the primary threads with which Evenson wove the fabric of his life.
"You don't notice those things when you're young unless they're pointed out to you. Hearing them for the first time like that changed my whole perspective on what nature was and what I thought about sound." - Dean Evenson