Sunrise
Michael Benghiat
Listen to Track Samples:
Track Title
Bliss
Le Jardin
Sunrise, Tiger Mountain
Reunion
SUNRISE, music for massage, spa, relaxation and yoga gives listeners a glimpse into composer and musician Michael Benghiat's curiosity and interest in non-western musical instruments and traditions.
On SUNRISE, Michael elegantly weaves together his own performance on guitars, Balinese gamelan, piano, keyboards, drums and percussion while eliciting both spontaneity and sophisticated responses from the ensemble musicians.
Ensemble musicians include: Stephanie Bennett on harp, Brice Martin on flutes and recorders, Hersh Hamel on sitar and tanpura and Sandy Howell performing ethereal, chant like vocals on the track Reunion. The end result is massage music that both elevates your spirit and grounds your consciousness in the here and now.
One of Michael's many fans eloquently defined the musical spell of SUNRISE best with this description, "the sound is very profound, deep, and you cannot help but contact your inner self."
Instruments: flutes, guitar, harps, piano, sitar, tanpura and voice on the track Reunion
Total run time: 65:20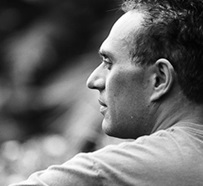 Michael Benghiat
A Santa Monica native, Michael Benghiat has experienced a multicultural musical palette since childhood. Accomplished on both the piano and guitar, Michael grew up in a home surrounded by music, with parents who not only treasured music but encouraged learning about music from a variety of cultural and ethnic heritages.This early exposure to the enduring folk traditions of Greek, Sephardic, Spanish, and Middle Eastern music as well as to classical orchestral music helped forge Michael's unique musical sensibility. Michael's curiosity and interest in non-western musical instruments and traditions finds expression today in his study and collection of exotic acoustic instruments from around the world. His ongoing explorations of musical culture are a natural extension of his BA degree and graduate level work in classical music composition at UCLA. The author of several books on the guitar, Michael's work as a musician and composer reflects his desire to "reach more people than I can teach one-on-one."
"I enjoy creating music that leads you inward. We all find ourselves refreshed by just the simple act of stopping for a moment and really relaxing. I try to create a musical world that facilitates this." - Michael Benghiat