Hearts Together
Michael Benghiat
Listen and Download Tracks:
Hearts Together, massage music for spa, relaxation and yoga, by Michael Benghiat offers the serene sounds of flutes, keyboards, harp, guitar and koto, which mingle together to form compositions with a slightly Asian flair. The track Luna, a new addition since the album's original incarnation (previously titled: Spirit Wood), features flutes and guitar woven into hauntingly soothing harmonies.
REVIEWS
"This is the fourth title in the "At Peace" series by Michael Benghiat, a gifted and sensitive artist whose music is attracting attention from massage therapists all over the world. His soothing compositions appeal to these professionals because they remain appealingly fresh even when played again and again in the course of a day. There is also an undercurrent of energy running through the melodies, ensuring that listeners relax without falling asleep. The reliance on the koto gives a strong Oriental flavor to the track "Japa" and "Voyage" is like an afternoon of sailing off the Atlantic coast, complete with the ebb and flow of ocean waves.
Those listening to the meditative arrangements of piano, guitar, gamelan, flute and more on HEARTS TOGETHER are sure to agree that Benghiat's music is relaxation." - Music Design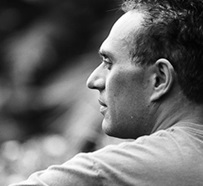 Michael Benghiat
A Santa Monica native, Michael Benghiat has experienced a multicultural musical palette since childhood. Accomplished on both the piano and guitar, Michael grew up in a home surrounded by music, with parents who not only treasured music but encouraged learning about music from a variety of cultural and ethnic heritages.This early exposure to the enduring folk traditions of Greek, Sephardic, Spanish, and Middle Eastern music as well as to classical orchestral music helped forge Michael's unique musical sensibility. Michael's curiosity and interest in non-western musical instruments and traditions finds expression today in his study and collection of exotic acoustic instruments from around the world. His ongoing explorations of musical culture are a natural extension of his BA degree and graduate level work in classical music composition at UCLA. The author of several books on the guitar, Michael's work as a musician and composer reflects his desire to "reach more people than I can teach one-on-one."
"I enjoy creating music that leads you inward. We all find ourselves refreshed by just the simple act of stopping for a moment and really relaxing. I try to create a musical world that facilitates this." - Michael Benghiat