Tibetan Bowls Overtone Music
Vlasta Marek
Listen and Download Tracks:
The opening sounds of Tibetan Bowls Overtone Music come from the crystal clear resonance of Tibetan bowls. The magic inherent in these healing vibrations and sounds can be felt immediately. You may find this world music album an enjoyable addition to a collection of massage music. These bowls provide vital sound energy and are tuned to our natural physical frequencies. In the hands of Vlasta Marek, a Zen teacher and sound therapist, the sounds come to life through a technique he calls \"sound bathing\". Marek constructs real and unreal domes of overtones, using not only Tibetan bowls but also steel drums, bird sounds and tamboura and cello. This is soothing music for the body, not overly ethereal, but with multi-level uses and a variety of ways to shape and colour the sounds.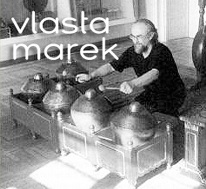 Vlasta Marek
Vlasta Marek is one of the leading new age artists in The Czech Republic. His specialties are overtone sounds and Tibetan singing bowls. Since the 1970s, he has produced music that focuses on releasing daily stress and opening the heart and mind. After experimenting with bells and Indian tablas, Vlasta Marek found his true calling: Tibetan singing bowls. He calls the special technique he is using "sound bathing".
"The magic of singing bowls is threefold. Tibetans believe that the sounds of a singing bowl connect mankind with the universe. They create many levels of healing overtones. Finally, singing bowls produce a broad spectrum of frequencies which do not exist in our music but are needed by our bodies." - Vlasta Marek