Paradigm Shift
Steven Halpern
Listen to Track Samples:
Track Title
Paradigm Shift
Now and Zen
First Kiss
Quantum Leap
String Theory
Hear Now Be
Mid-Eastern Peace
The Heart of Coherence
At Peace in the Moment
Embraced by Angels
Hip Pocket
Sonic Sanctuary
Chakra Suite 2020
In 1975, Steven Halpern created a paradigm shift in sound healing when his first album demonstrated how to orchestrate relaxation more effectively, predictably and immediately than traditional classical music.
This album, Paradigm Shift, is perfect relaxation music for massage, meditation, reading or for creating a relaxing ambiance. Thirty five years later, the music on this album represents a new paradigm shift, that expands the parameters of healing music for body, mind and spirit by incorporating beautiful lyrical themes and an occasional taste of rhythm.
Joining Steven is Michael Manring, the virtuoso bassist well-known to millions of Windham Hill fans, who adds funky bass lines on "First Kiss" and "Now & Zen", as well as amazing melodic harmonic overtones.
This is an album you're sure to enjoy listening to for its sheer beauty, as well as for how easily it will transport you into the 'inner peace zone.'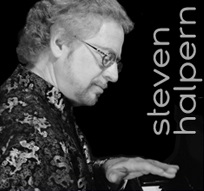 Steven Halpern
STEVEN HALPERN is an internationally-acclaimed composer and best-selling recording artist whose research, books and recordings helped create the healing music/sound healing genre. For over 36 years, he has produced music with the intention to nurture body, mind and spirit. His music is born from a place of deep peace, and his recordings radiate that experience whenever they are played. His CDs have been favorites of the massage and spa world for over 30 years…"in a class by itself"—Massage Magazine. When it comes to relaxation and 'sound health', Steven Halpern's music is an ideal choice to create a peaceful ambience and complement all forms of therapeutic bodywork. Steven received the Lifetime Achievement award in June 2010 from the World Massage Festival, and has keynoted at two national conferences of the American Massage Therapy Association, the only musician to be honored in this way for his contributions to our field.