Numinous
George Skaroulis
Listen to Track Samples:
Track Title
Numinous
Ariana
Forgotten Song
Petaloutha
Mythos
Circulo de Amor
The Calling
Psiliamo
Eternia
Into the Sea
Flicker of Flame
Blue Night
Angelos
Illuminati
Spiritus
Numinous by George Skaroulis is his second release and most acclaimed massage music album. Ambient and calm, Numinous is the perfect album for massage, yoga and meditation. Spiritually inspired and physically calming, this is excellent ambient music for massage therapy.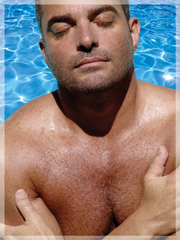 REVIEWS
"George Skaroulis is a self-taught pianist and passionate young composer. He has created Numinous, an inspirational collection of radiant piano/synthesizer music that has been commissioned by an art gallery owner as original theme music for a spiritual art exhibit showing in six art galleries in Atlanta. Numinous, a word meaning 'appealing to the higher emotions or to the aesthetic sense: in the presence of divinity, or spiritual,' is spiritually inspirational and also physically calming, an excellent ambient music for massage therapy.
Skaroulis skillfully combines the use of tonal color, texture and rubato-a free expression of rhythm to evoke emotion in is music. Skaroulis does this through tones, his adoration for the divine, as well as his humble humility." - David Moore, Massage Magazine
ARTIST QUOTE
"Greek culture figures into my music pretty strongly; both of my parents are Greek. It has a lot of influence on Numinous. To an outsider, it may not be so obvious in the music itself, but the melodies are definitely influenced by that. My circle of friends and family is so important to my well being I thought it was appropriate to acknowledge their influence on my music. 'Into the Sea' was the only song that I wrote on Numinous that came from my stay on Patmos. I visit whenever I can. We have relatives there and we stay at my grandfather's home. It's a tiny, beautiful place. Very primitive. It's a hundred years old and full of inspiration." - George Skaroulis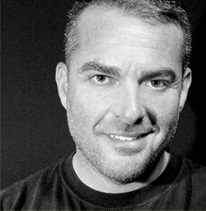 George Skaroulis
George Skaroulis began his love affair with the piano at the young and tender age of five. His mother was a classically trained pianist and George would sit on the bench next to her to watch and listen. One day, he started playing along. It wasn't too long before George was figuring out the melodies of songs he heard on the radio. At the age of 10, his parents encouraged piano lessons, but in five weeks George quit the lessons after his teacher discovered he was playing by ear. Uninterested with structure & theory, George wanted to play the piano his way.
As a teenager, George began a career in the restaurant industry, and spent over 20 years in the business. Time at the piano was often his private escape. George never dreamed of pursuing his love of music as a career, but over the years, the piano kept calling him back.
To this day George doesn't read music, and without those formal boundaries, he continues to create music in his own peaceful romantic style. George's music undoubtedly has a calming effect on those who listen, even animals (George's music has been chosen as the official music of the Atlanta Humane Society). It is no surprise this relaxing quality has attracted spa professionals and massage therapists worldwide.
Skaroulis is a member of the National Academy of Recording Arts & Sciences (NARAS), and a member of the American Society of Composers Authors and Publishers (ASCAP).

"Provide a musical sanctuary for your clients, and watch the positive atmosphere it creates in your practice." - George Skaroulis