Return to Homeland
George Skaroulis
Listen to Track Samples:
Track Title
The Dance
Athena
Traditions
Homeland
Kalymnos
I Remember
Eleni
Tarpon
Open Arms
Return to Patmos
Rosemary
Evi's Song
Lullaby for Luke
Evangelia
My Dream
Crossroads
Mosaic
Adrift
Is Agios
Return to Homeland by George Skaroulis offers an intimate glimpse into the artist's Greek-American heritage. Skaroulis creates massagae music that evokes the essence of beauty. His expression of sound is soothing and inspirational, embodied by the ambient piano that has become his familiar trademark. If you've ever dreamed of visiting Greece…or longed to return, this album will transport you to the special place that lives within one man's insightful Mediterranean soul.
Music from this album was featured on two PBS productions — Visions of Italy & Visions of Greece. The album includes 10 new compositions, as well as new versions of songs from the original Homeland album.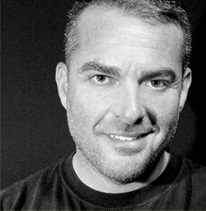 George Skaroulis
George Skaroulis began his love affair with the piano at the young and tender age of five. His mother was a classically trained pianist and George would sit on the bench next to her to watch and listen. One day, he started playing along. It wasn't too long before George was figuring out the melodies of songs he heard on the radio. At the age of 10, his parents encouraged piano lessons, but in five weeks George quit the lessons after his teacher discovered he was playing by ear. Uninterested with structure & theory, George wanted to play the piano his way.
As a teenager, George began a career in the restaurant industry, and spent over 20 years in the business. Time at the piano was often his private escape. George never dreamed of pursuing his love of music as a career, but over the years, the piano kept calling him back.
To this day George doesn't read music, and without those formal boundaries, he continues to create music in his own peaceful romantic style. George's music undoubtedly has a calming effect on those who listen, even animals (George's music has been chosen as the official music of the Atlanta Humane Society). It is no surprise this relaxing quality has attracted spa professionals and massage therapists worldwide.
Skaroulis is a member of the National Academy of Recording Arts & Sciences (NARAS), and a member of the American Society of Composers Authors and Publishers (ASCAP).

"Provide a musical sanctuary for your clients, and watch the positive atmosphere it creates in your practice." - George Skaroulis