Snow
George Skaroulis
Listen to Track Samples:
Track Title
Snow
Joy to the World
Do You Hear What I Hear
Christmas Day
Little Drummer Boy
Song for Peace
Silver Bells
The Brightest Star
Deck the Halls
O Come, All Ye Faithful
We Wish You a Merry Christmas
Linus & Lucy
The Gift
Ruby's Song

Silent Night
Silent Night - Kevin Lawson
Auld Lang Syne
A George Skaroulis Holiday Collection
George Skaroulis is a one of the best loved musician/composers of massage therapists worldwide, so we're delighted to offer his musical interpretation of holiday piano music. We think you'll love Snow, a peaceful solo-piano Christmas album which includes traditional songs, as well as new originals - all of which will get you in the holiday spirit and minimize holiday stress at the same time!
George's version of Silent Night features a special guest appearance by vocalist Kevin Lawson. You won't find this music on iTunes or Amazon.com ... and if you love this, you'll want to add George's other spa piano albums to your massage and spa music collection, which are included in the Recommended Albums below. If you're a massage therapist or bodywork professional who needs music to 'chill-out' and relax your clients or you're just looking for great relaxation music, you'll find George's piano music an indispensable addition to your spa/massage/relaxation playlists.
Track 16: Silent Night, featuring vocalist Kevin Lawson, is available on the complete album download only.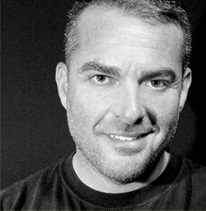 George Skaroulis
George Skaroulis began his love affair with the piano at the young and tender age of five. His mother was a classically trained pianist and George would sit on the bench next to her to watch and listen. One day, he started playing along. It wasn't too long before George was figuring out the melodies of songs he heard on the radio. At the age of 10, his parents encouraged piano lessons, but in five weeks George quit the lessons after his teacher discovered he was playing by ear. Uninterested with structure & theory, George wanted to play the piano his way.
As a teenager, George began a career in the restaurant industry, and spent over 20 years in the business. Time at the piano was often his private escape. George never dreamed of pursuing his love of music as a career, but over the years, the piano kept calling him back.
To this day George doesn't read music, and without those formal boundaries, he continues to create music in his own peaceful romantic style. George's music undoubtedly has a calming effect on those who listen, even animals (George's music has been chosen as the official music of the Atlanta Humane Society). It is no surprise this relaxing quality has attracted spa professionals and massage therapists worldwide.
Skaroulis is a member of the National Academy of Recording Arts & Sciences (NARAS), and a member of the American Society of Composers Authors and Publishers (ASCAP).

"Provide a musical sanctuary for your clients, and watch the positive atmosphere it creates in your practice." - George Skaroulis