Season Traditions
George Skaroulis
Listen to Track Samples:
Track Title
What Child is This
Good King Wenceslas
Silent Night
O Tannebaum
The Gathering
We Three Kings
Joy to the World
God Rest Ye Merry Gentleman
Carol of the Bells
Angels We Have Heard on High
The First Noel
Coming Home
Greek New Year Song
Holiday Piano Music for Relaxation
*Album download only - not individual album tracks.
Season Traditions* is George Skaroulis' third album, featuring solo piano holiday music. Listening to these timeless, classic piano tracks, you would never guess this was released in 1998 - even after all these years, it still offers some of the finest holiday piano music for relaxation you will ever hear, which is why it has been a consistent favorite of the massage and bodywork all of these years.
Total run time: 42:30
You'll recognize many of the holiday, seasonal melodies, but it also includes two of George's original compositions, The Gathering and Coming Home. All in all, this is indispensable music for total relation and stress-relief during the holiday season (and who couldn't use more of that)? Scan the list of Recommended Albums below for additional holiday spa music, including George's other holiday piano music album, Snow.
Voted one of the top 5 holiday albums of 1998 by NAV (New Age Voice Magazine).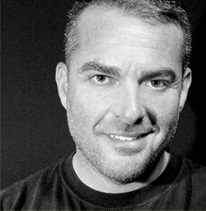 George Skaroulis
George Skaroulis began his love affair with the piano at the young and tender age of five. His mother was a classically trained pianist and George would sit on the bench next to her to watch and listen. One day, he started playing along. It wasn't too long before George was figuring out the melodies of songs he heard on the radio. At the age of 10, his parents encouraged piano lessons, but in five weeks George quit the lessons after his teacher discovered he was playing by ear. Uninterested with structure & theory, George wanted to play the piano his way.
As a teenager, George began a career in the restaurant industry, and spent over 20 years in the business. Time at the piano was often his private escape. George never dreamed of pursuing his love of music as a career, but over the years, the piano kept calling him back.
To this day George doesn't read music, and without those formal boundaries, he continues to create music in his own peaceful romantic style. George's music undoubtedly has a calming effect on those who listen, even animals (George's music has been chosen as the official music of the Atlanta Humane Society). It is no surprise this relaxing quality has attracted spa professionals and massage therapists worldwide.
Skaroulis is a member of the National Academy of Recording Arts & Sciences (NARAS), and a member of the American Society of Composers Authors and Publishers (ASCAP).

"Provide a musical sanctuary for your clients, and watch the positive atmosphere it creates in your practice." - George Skaroulis