KamaSutra: The Essential
Surajit Das
Listen to Track Samples:
Track Title
Priti
Samprayoga
Sanveshana
Skahalana
Beauty and Love
KamaSutra: The Essential, by Surajit Das offers world music that is ideal for massage and bodywork and can also be used in a variety of settings, including spa, meditation and healing.
Discover a musical landscape depicting the sacred art of pleasurable love as described in the Kamasutra. Beautiful classical Indian music with a contemporary feel, Kamasutra: The Essential explores emotional depths and fantasies creating a sensuous musical soundscape. Total run time: 60+ minutes
Surajit Das has studied extensively with well-known sitar player Prof. Kashinath Mukerjee and has studied and developed ragas performed by renowned classical singers in India.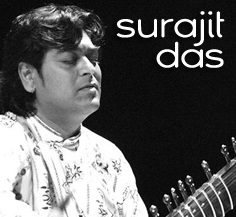 Surajit Das
Surajit Das was born in Calcutta, India into a musical family. His aunt, Shrimati Suruchi Das, gave him his first sitar lesson at the age of nine; he studied later with the well-known sitarist Professor Kashinath Mukerjee. In 1983 he obtained his Masters Degree in Indian classical music at the Music University Proyag Sangeet Samity in Allahabad. Surajit studied and developed all the ragas known to Professor Chinmoy Lahere, a well-known classical singer in India. He gives guest performances at the seminars of Deepak Chopra and has recently been working with Roy Martina. Surajit is a firm believer of the peaceful influence Indian classical music has.