Tantric Chill
DJ Free & Jadoo
Listen to Track Samples:
Track Title
Invocation
Tantric Body
Sensan
Falling Rain
Enigmatica
Tantrica
Drift
Kaif Kun (Chill Mix)
Slow Swing
Tantric Body (Reprise)
The Encore
Tantric Chill offers a sensual musical journey that takes the listener on an evocative odyssey. Chill out and relax with downtempo beats, languid melodies, exotic vocals, chants and cinematic soundscapes. SOULFOOD's DJ Free connected with JADOO to turn a vault of sounds into a global chill release with an exotic flavor and energy.
TRT: 50:12 Tantric Body (Reprise) track included in complete album download
Instruments include: acoustic, fretless and steel guitars, piano, keyboards, bass, coronet, sato, spike fiddle, percussion, synthesizer as well as sultry vocals by Sevara, Ana Emilia and Julia Messenger; and Corsian Chants by Vocci di Castagniccia.
Highly recommended for: Lounge, chill, relaxing, dinner parties, driving
DJ Free & Jadoo
DJ Free is an award winning producer/composer who scored soundtracks for IMAX® "Extreme", PBS/National Geographic special "Condition Black" and the ESPN series "Making of Extreme". His DJ roots, along with the world's indigenous cultures, influence his music. He has charted on Billboard and several international DJ and Dance charts. He works with award-winning artists from a variety of cultural and musical backgrounds to create a fresh mix of music for yoga, spas and just chilling. DJ Free has also been a guest teacher at the Esalen® Institute where he explores the connection between music and consciousness. When creating music for the healing arts, he consults with Yoga, massage, movement and music therapy practitioners.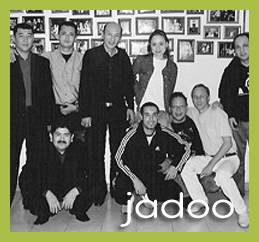 Jadoo, the ancient Persian word for magic, takes the listener on an alchemical journey. Jadoo is a hybrid of traditional ethnic music integrated with transglobal electronica - an inspired collaboration between producer/omposer Jack Clift and Soulfood producer DJ Free.
The result is a mesmerizing fusion of music, culture and technology. Jadoo's core musicians include multi-instrumentalist Toir Kuziyev (Peter Gabriel), Utkur Kadirov on spike fiddle, Nodir Umarov on keyboards, Otanazar Khudaynazarov on accordion and Tajik MC Mario. Guest musicians include mystical vocalist Sevara (Peter Gabriel) and slide guitar guru Greg Leisz (Beck).