Buddha Chill
DJ Free
Listen to Track Samples:
Track Title
Zen Lounge (Buddha Remix)
Believe (DJ Remix)
Planet Dance
Peaceful Warrior
Shaken No Stirred
Enigmatica
Buddha's Dream
Espiritus
Pan Klai (DJ Remix)
Sensations (DJ Remix)
Om
Tantrica
Buddha Chill offers a global musical feast of ancient and futuristic grooves, downtempo beats, chill tribal rhythms, and ambience perfectly mixed together by SOULFOOD's DJ Free, who returns to his DJ roots. An artful blending of live instrumentation, global chants, electronica, and cinematic soundscapes takes the listener to a place where spirit and chill become one. This sonic mix of global music features influences from Central Asia, the Americas, and Europe to create a sound that can only be described as transglobal electronica.
TRT: 60+ minutes, these tracks available album only > Enigmatica, Espiritus
Instruments: Acoustic, electric and fretless guitars, piano, keyboards, bass, drums and percussion, sax, woodwinds, flutes, synthesizer, vocals
Highly recommended for: relaxation, dinner parties, driving, spa lounge
Reviews:
"A great chill release." -- Backroads Music
"A good downtempo chill disc ... add it to your electronica and evening relaxation collections." -- New Age Retailer
"A tasty chill outing that offers new aural delights from one of the most reliable underground crews out there." -- Midwest Record Recap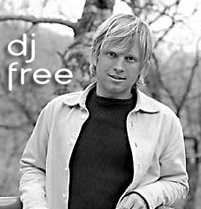 DJ Free
DJ Free is an award winning producer/composer who scored soundtracks for IMAX® "Extreme", PBS/National Geographic special "Condition Black" and the ESPN series "Making of Extreme". His DJ roots, along with the world's indigenous cultures, influence his music. He has charted on Billboard and several international DJ and Dance charts. He works with award-winning artists from a variety of cultural and musical backgrounds to create a fresh mix of music for yoga, spas and just chilling. DJ Free has also been a guest teacher at the Esalen® Institute where he explores the connection between music and consciousness. When creating music for the healing arts, he consults with Yoga, massage, movement and music therapy practitioners.