Yogi Chill
DJ Free
Listen to Track Samples:
Track Title
Inception
Cosmic
Euphoria
Metamorphosis
Kundalini
Karma Society
Lucky Buddha
Praise
Temple
Ascension
Yogi Chill offers a hypnotic musical journey of transglobal electronica, tribal rhythms, world flutes and exotic chants. This downtempo yoga music CD offers an entire hour of beat mixed music, ideal for energetic Yoga, active meditation, working out or your next cocktail party!
This music was originally inspired and developed when DJ Free was guest teaching at the Esalen® Institute and spinning at music festivals such as Burning Man. These creative outlets allowed further collaboration with DJs, artists, musicians, dance instructors and Yoga professionals from around the world. Yogi Chill is the culmination of many beautiful experiences that brings us to a place where Yoga meets Chill.
TRT: 60 minutes These tracks available album only > Kundalini, Karma Society, Lucky Buddha, Praise
Instruments: Synthesizer, electronica, percussion, shakers, piano, keyboards, bamboo flutes, woodwinds, sax, tablas, female vocals and chants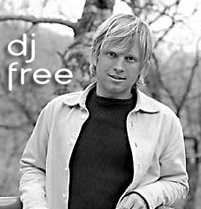 DJ Free
DJ Free is an award winning producer/composer who scored soundtracks for IMAX® "Extreme", PBS/National Geographic special "Condition Black" and the ESPN series "Making of Extreme". His DJ roots, along with the world's indigenous cultures, influence his music. He has charted on Billboard and several international DJ and Dance charts. He works with award-winning artists from a variety of cultural and musical backgrounds to create a fresh mix of music for yoga, spas and just chilling. DJ Free has also been a guest teacher at the Esalen® Institute where he explores the connection between music and consciousness. When creating music for the healing arts, he consults with Yoga, massage, movement and music therapy practitioners.